Telemetry Technician Textbook: EKG Fundamentals

ISBN: 978-1-944471-93-4
Interior: Color
Edition: Series I

Published: 2016-2017
Pages: 3o0 plus pages
Size: 11 x 8.5
Population: Trade School, Colleges, High Schools, Training Centers, etc.

Subject: Electrocardiogaphy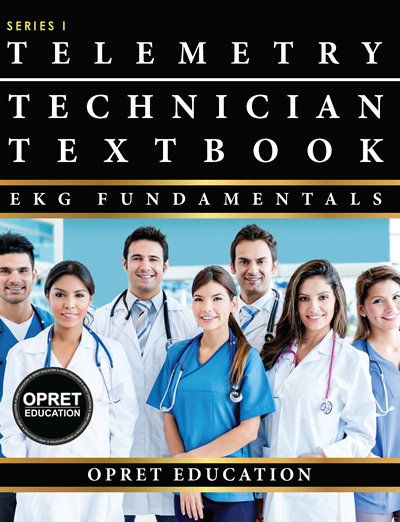 About the Textbook

About the Textbook

This textbook is focused on contents such as anatomy and physiology of the heart, infection control and standard precautions, legal issues in healthcare, medical terminology, concept of EKG, EKG interpretation, EKG application essentials, EKG procedure and picture application for various type of EKGs. The Interpretation section of the EKG consists of interpretations
of:
1. Normal Sinus Rhythm 2. Sinus Bradycardia 3. Sinus Tachycardia 4. Sinus Arrhythmia 5. Sino-Atrial Block 6. Sinus Pause/Sinus
Arrest
1. Premature Atrial Contraction 2. Wandering Atrial Pacemaker 3. Atrial Flutter 4. Atrial Fibrillation 5. Supraventricular
Tachycardia 6. Multifocal Atrial Tachycardia
1. Premature Junction Contraction 2. Junctional Rhythm 3. Junctional Escape Beat 4. Accelerated Junctional Rhythm 5. Junctional
Tachycardia
1. Idio-ventricular Rhythm 2. Accelerated Idio-ventricular rhythm 3. Ventricular Fibrillation 4. Premature Ventricular Contraction 5.
Ventricular Escape Beat 6. Torsades de Pointes 7. Asystole 8. Ventricular Tachycardia

1. First Degree Block 2. Second Degree Type 1 Block 3. Second Degree Type 2 Block 4. Third Degree Block 5. Bundle Branch Block

1. Right Axis Deviation 2. Left Axis Deviation 3. Extreme Axis Deviation

1. Right & Left Atrial Hypertrophy 2. Right & Left Ventricular Hypertrophy

1. Lateral Wall (STEMI) 2. Inferior Wall (STEMI) 3. Anterior Wall (STEMI) 4. Septal Wall (STEMI) 5. Antero-Lateral (STEMI) 6. Inferior-Lateral (STEMI)

1. Single Chamber: Atrial 2. Single Chamber: Ventricular 3. Dual Chamber: Atrial & Ventricular
The procedure section of the textbook consist of 3 Lead EKG Placement, 5 Lead EKG Placement, 7 Lead EKG Placement, 15 Lead EKG Placement for Adult, 15 Lead EKG Placement for Pediatric, 12 Lead EKG Placement, Dextrocardiac 12 Lead Placement, 12 Lead EKG Placement, 12 Lead EKG Placement for EKG Stress Testing.