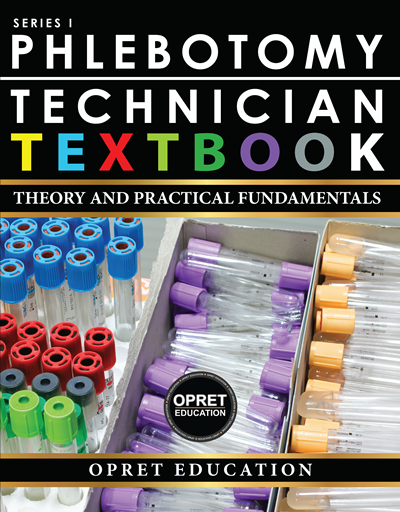 The textbook is written for individuals pursuing a career as a phlebotomy technician. The textbook for phlebotomy technician consists of various chapters that includes: Introduction to phlebotomy, Infection control and standard precautions, introduction to human anatomy and physiology, medical terminology, phlebotomy equipment and supplies, phlebotomy procedure and phlebotomy essentials. The book has been broken down into several sections to make the process of learning easy for leaners. The book has end of chapter review questions. In addition to this, the textbook has 6 practice exams, 50 questions each with the answers at the end of the book.
The phlebotomy technician textbook is written to simplify the process of learning phlebotomy subject matter knowledge. The language used in this textbook is simplified for maximum comprehension. The main purpose of this book is to make the teaching and learning process of the phlebotomy course easy. The instructor resources of this book has numerous questions and answers for instructors and students. The questions and answers within the instructor resources can be either used as in class assignments or take home assignments. The multimedia presentations within the instructor resources of the phlebotomy technician may assists the instructor or tutors teach the class. A midterm and final exam is also available within the instructor resources.
Chapter 1: Section 1 Intro to Phlebotomy & Infection Control
Chapter 1: Section 2 Legal Issues in Healthcare
Chapter 2: Introduction to Human Anatomy & Physiology
Chapter 3: Medical Terminology
Chapter 4: Phlebotomy Equipment & Supplies
Chapter 5: Phlebotomy Clinical Skills
Chapter 6: Phlebotomy Fundamental Essentials
Phlebotomy Table of Content

WorkBook Test

Multimedia Presentation

Midterm / Final Exams

Test Bank and Quiz

Glossary

Abbreviations
and more….
Click Here to View Details
Click Here to View Details