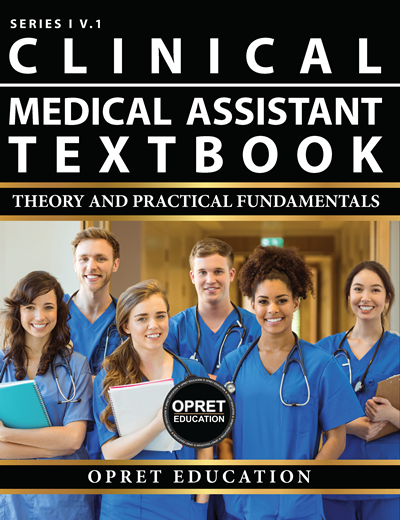 Clinical Medical Assistant Textbook: ​Theory & Practical Fundamentals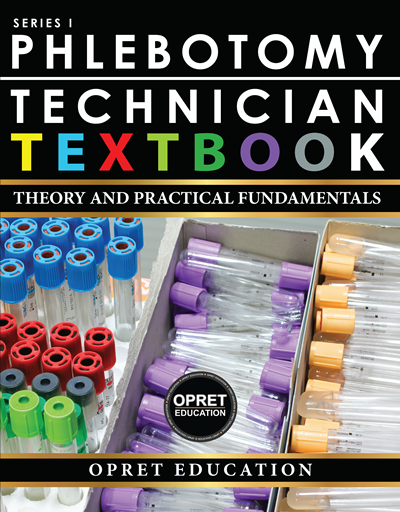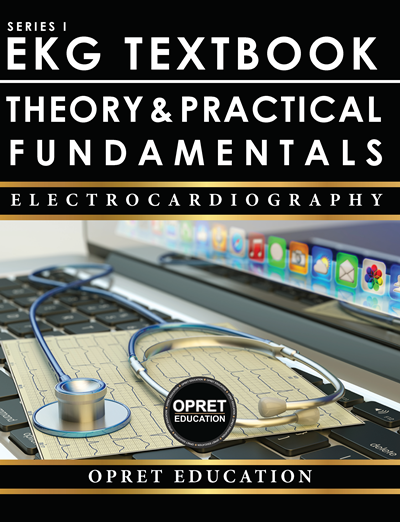 ISBN: 978-1-944471-86-6
Interior: Color
Edition: Series I

Published: 2016-2017
Pages: 6o0 plus pages
Size: 11 x 8.5
Population: Trade School, Colleges, High Schools, Training Centers, etc.

Subject: Allied Healthcare

Volume Discounts

Clinical Medical Assistant Volume
The clinical medical assistant textbook consist of contents such as infection control and legal issues in healthcare, Introduction to human anatomy and medical terminology, physical assessment and examination, injection techniques and pharmacology introduction, special examinations that may be assisted or performed by clinical medical assistant, other topics includes patient mobility and patient positioning, assistive devices and gait, orthotics and prosthetics, patient transfer techniques and wheelchair management, wound care and various special topics such as draping techniques, ostomy care, nutrition and meal etc. This book also features 3 practice exams; each practice exam has 100 questions. The student will have 300 questions to solve at the end of the book, plus there is an end of chapter review questions as well, which can be completed by the student after every chapter. This book may be adopted by schools that are already offering the program or plan to offer the program in future. The key component of the textbook is an easy to understand language that can be understood by the candidate while reading the content of the textbook. This will make the concepts of the book much more understandable. The book also features various pictures and illustrations to make the concepts of learning easy.
Phlebotomy Technician Volume
The textbook is written for individuals pursuing a career as a phlebotomy technician. The textbook for phlebotomy technician consists of various chapters that includes: Introduction to phlebotomy, Infection control, and standard precautions, introduction to human anatomy and physiology, medical terminology, phlebotomy equipment and supplies, phlebotomy procedure and phlebotomy essentials. The book has been broken down into several sections to make the process of learning easy for leaners. The book has end of chapter review questions. In addition to this, the textbook has 6 practice exams, 50 questions each with the answers at the end of the book.

This textbook is focused on contents such as anatomy and physiology of the heart, infection control and standard precautions, legal issues in healthcare, medical terminology, concept of EKG, EKG interpretation, EKG application essentials, EKG procedure and picture application for various type of EKGs. The Interpretation section of
the EKG consists of interpretations of

1. Normal Sinus Rhythm 2. Sinus Bradycardia 3. Sinus Tachycardia 4. Sinus Arrhythmia 5. Sino-Atrial Block 6. Sinus Pause/Sinus
Arrest
1. Premature Atrial Contraction 2. Wandering Atrial Pacemaker 3. Atrial Flutter 4. Atrial Fibrillation 5. Supraventricular
Tachycardia 6. Multifocal Atrial Tachycardia
1. Premature Junction Contraction 2. Junctional Rhythm 3.Junctional Escape Beat 4. Accelerated Junctional Rhythm 5. Junctional
Tachycardia
1. Idio-ventricular Rhythm 2. Accelerated Idio-ventricular rhythm 3. Ventricular Fibrillation 4. Premature Ventricular Contraction 5.
Ventricular Escape Beat 6. Torsades de Pointes 7. Asystole 8. Ventricular Tachycardia

1. First Degree Block 2. Second Degree Type 1 Block 3. Second Degree Type 2 Block 4. Third Degree Block 5. Bundle Branch Block

1. Right Axis Deviation 2. Left Axis Deviation 3. Extreme Axis Deviation

1. Right & Left Atrial Hypertrophy 2. Right & Left Ventricular Hypertrophy

1. Lateral Wall (STEMI) 2. Inferior Wall (STEMI) 3. Anterior Wall (STEMI) 4. Septal Wall (STEMI) 5. Antero-Lateral (STEMI) 6.Inferior-Lateral (STEMI)

1. Single Chamber: Atrial 2. Single Chamber: Ventricular 3. Dual Chamber: Atrial & Ventricular
The procedure section of the textbook consist of:
3 Lead EKG Placement,

5 Lead EKG Placement,

7 Lead EKG Placement,

15 Lead EKG Placement


12 Lead EKG Placement,

Dextrocardiac 12 Lead Placement,

12 Lead EKG Placement,

12 Lead EKG Placement for EKG Stress Testing
This volume of EKG textbook consist for various illustrations and pictures to make the process of learning easy and understandable.